Quality donations are the foundation of our fundraising and help us stand out as one of the premiere thrift stores in the Kansas City metro area. Donating to Red Racks/Disabled American Veterans (DAV) declutters your surroundings, helps the environment, and supports a great cause. But how do you know what to donate?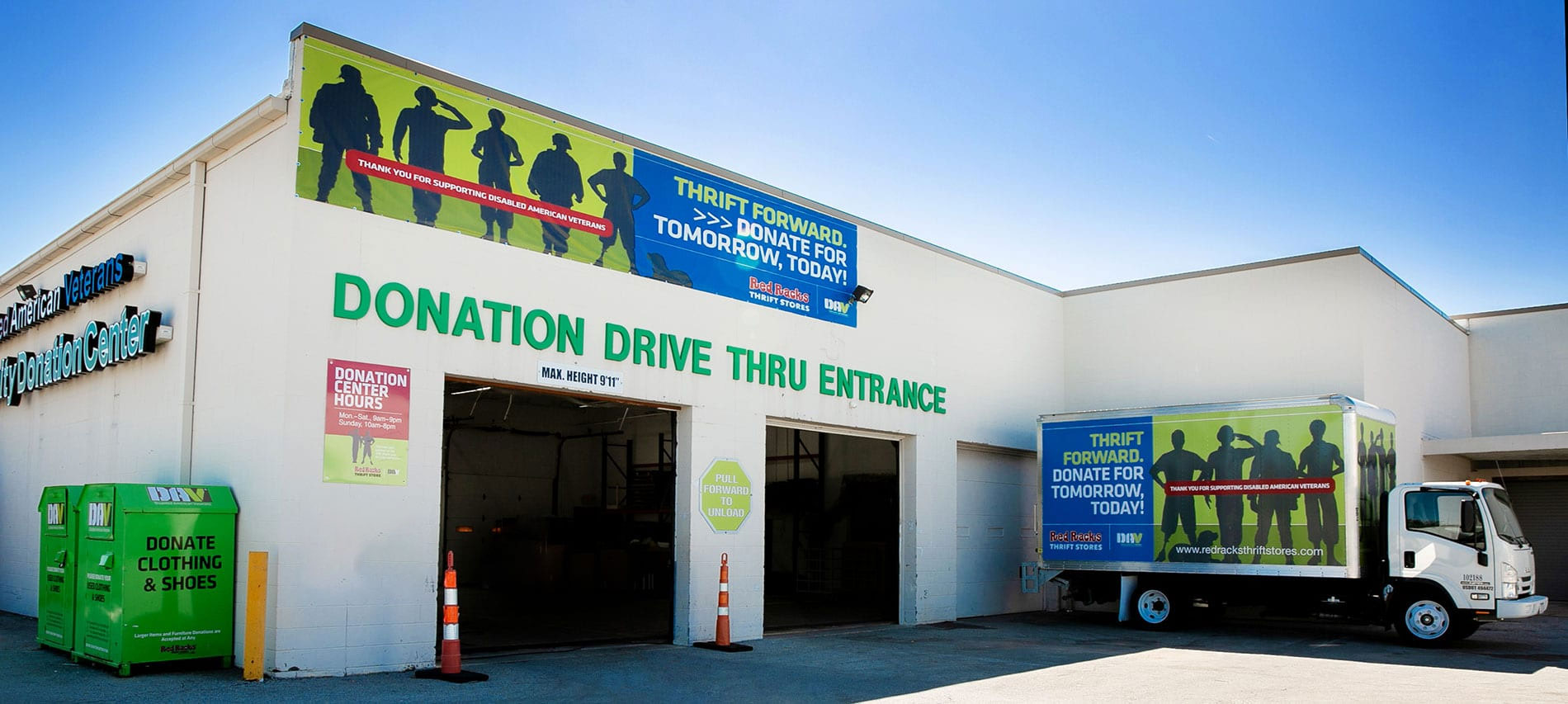 Fashion trends are cyclical. Items in your closet that may seem outdated might be coming back in style. Donate clean clothing, accessories and shoes to be restyled forward.
Give your rarely-used kitchen appliances (toaster oven, juicer, etc) a new life. Donate them and reclaim your counter space.
One person's trash is another person's treasure. Home décor, books, vintage tableware…you never know what someone else is searching for!
We understand with gently used clothing there may be some buttons missing, or a broken zipper, or even a small hole. We will accept these items as well. Although we cannot sell these items in our stores, the items will be sold to outside vendors who will then take the items and ship them to less fortunate countries, where your gently used items will help with employment and clothing opportunities.
 LIST OF ACCEPTED ITEMS: 
Household items & small appliances (clean and in working order)

Clothing, Shoes & Accessories

Furniture (good condition)

Home Decor

Tools & Electronics (flatscreen TV's, 2 years or newer, working condition only)
Vacuums & Carpet Cleaners (clean and in working order)

Collectibles & Antiques

Books

Window Blinds/Curtain Rods

Ceiling Fans or Light Fixtures

Linens, Blankets, Towels, Decor Pillows

Musical Instruments

Crutches, Canes, Walkers, Shower Chairs, Bed Side Commodes (clean and working order)

Sports and Camping Equipment

Large Toys

Ellipticals, Treadmills, Exercise Bikes (10 years or newer)
BBQ Grills (no propane tanks or damage)
LIST OF NON-ACCEPTED ITEMS:
Items with mold and/or mildew

Furniture with stains, tears, odors, and/or damage

Mattresses, Box Springs, or Bed Pillows

Baby Cribs

Car Seats

In-home Gyms

Some Electrical Items/Large Appliances

Items containing gasoline or chemicals

Washers, Dryers, Refrigerators, Freezers, Dishwashers

 

Safety Recalled Items

Tube TV's

Organs or Pianos

Hospital Beds

Medical Supplies that are not listed above

Non-Working Electric Wheel Chairs

Auto Parts, Tires, or Batteries

Building Materials

Encyclopedias or Magazines

Hot Water Tanks

Food
Unfortunately, we are unable to accept every item.  As a good steward of the DAV and our Veterans, on occasion, we must decline donations because of State Health or Safety regulations, unsatisfactory condition, or merchandising reasons.  Disposing of these items results in an expense to our charity.
To learn more about how your donations help our veterans around the world, please click here. 
To donate, simply bring the items to a Red Racks Thrift Store nearest you!
For items that we do not take, there are other locations that may be able to accept these items.
Vehicle Donations

Electronics

Pianos or Organs

Keys 4 Kids — (816) 221-1422

Pianos for Education — (404) 826-6172

Medical Equipment

Coalition for Independence — (816) 322-7432

Electric Wheelchairs that do not work and other medical equipment

Meri Laughery — (816) 694-5739

Large Appliances and Remodeling Items

KC Habitat for Humanity — (816) 924-1096

Springfield Habitat for Humanity — (417) 829-4001

Food or Personal Care Items

Community Service League in your town

City Union Mission — (816) 474-9380

Mattress Recycling KC

Mattress Recycling Springfield

Bed Donation
Not sure what or how to donate? Check out our tips to help!